Introduction to 3D CAD Software
3D models are an important part of digital production, involved in many different kinds including, but not limited to: 3D printing, animation, gaming, architecture, and industrial design. Being that having the right models are so critical to your success, it makes it important to choose the right 3D modeling software to fit your needs, with as little headaches as possible. The right CAD software program can unleash your creative side and keep you focused on what really matters – the design.
However, it can be difficult to find the right software programs. The reason for this is the myriad features and functions these applications offer designers and engineers. With this in mind, we've organized the most comprehensive list of 3D CAD applications in tiers of difficulty, and included the essential information such as price, supported file formats, etc. to help you make the absolute best decision possible.
Having said that, we've chosen to exclude some gaming and animation apps from this list to save some time. We plan on covering those categories in the future so stay tuned. The picks below are based on a roundup of expert information from engineering forums, reviews and blogs. The list below was created from what we think are the most useful features for 3D CAD modeling software tools. Some of our picks are best suited for visualization and quick ideation and rendering, while others are useful for freeform surface modeling. We've also included a wide range of pricing, from the best CAD software tool to the more inexpensive software for beginners who want options without the hefty price tag. The list below is in absolutely no particular order.
3D CAD Software Comparison Chart
[table id=1 /]
Beginners: 3D Modeling Software
The following 3D CAD software programs are placed in no particular order. This list will be constantly updated with new apps and software, so check back frequently.
Meshlab is an open source system for processing and editing unstructured 3D triangular meshes. The software excels in providing editing, cleaning, healing, inspecting, rendering, and converting tools for all sorts of meshes.
Meshlab is a rich, complete mesh fixing and editing software. Professional users like it for it's mesh and point cloud processing functions, and ability to take very large 3D scan file data and manage it.
Key Features:
Process raw data produced by 3D digitization tools and preparing 3D printing models
Large meshes support
Big Improvements to rendering speed
Get metric info out of models and quality transformation features
Upload models directly SketchFab
Transformation matrices used more uniformly among filters
3D acquisition: aligning, reconstruction, and color mapping and texturing
Cost: Free
Although good for new CAD users it is still useful for professionals due to it's advanced subdivision modeler. Wings 3D comes with an interface that can be customized, along with an Auto UV mapping feature to give your model texture. It has a customizable interface and a built-in Auto UV mapping facility to give your model texture. Wings is Open Source making it great for free use for anyone.
Files Format: OBJ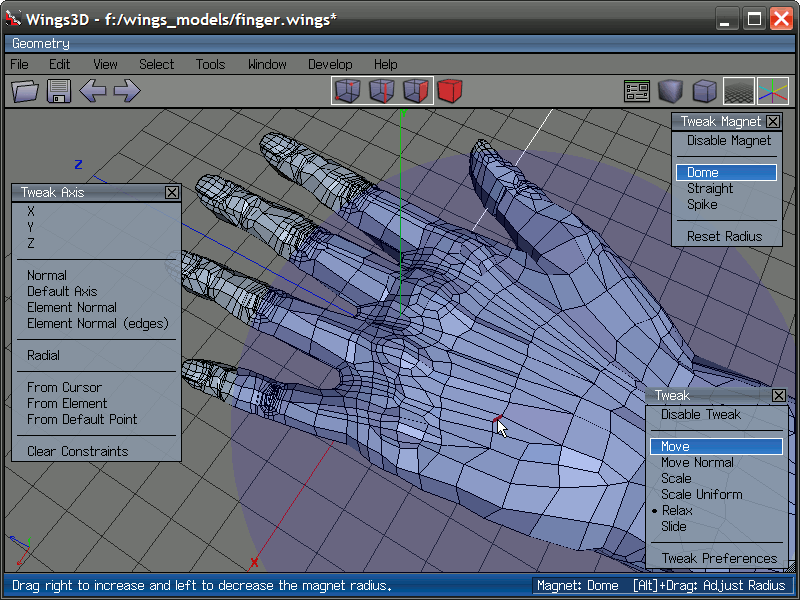 Strata Design is one of the best options for new 3D CAD model designers just starting out. The software's Drawing feature let's you export your file or draw your own 2D object. The main feature that makes Design SE so easy to use and fun is it's modeling and rendering capabilities.
File format: Collada (in/out), Illustrator/EPS (in), Photoshop PSD (in/out), STL (out), 3DS (in), DXF (in/out), OBJ (in/out), VRML 1 & 2 (in/out)
Ideal for beginners as well as experts, DesignCAD 3D Max can do it all when it comes to a 3D CAD modeling software tool. This 3D modeling tool also sports a 2D CAD feature with the power for creating high-quality designs, simple renders, and animations.
Key Features:
Interoperability of new files
Superior management of image files, blocks, and symbols
Complete range of strong 3D modeling primitives like: box, sphere, hemisphere, pyramid, cylinder, cone, and torus
Operate using Boolean logic including solid add, solid subtract, and slice to shape 3D parts
Includes support for 3D view settings, 3D primitives, 3D (solid) editing operations, and 3D visualization
Cost: Free trial available
Bundle: $199.99
DesignCAD 3D Max 2016: $99.99
K-3D is geared toward the artist by focusing on animation and 3D modeling. If you plan on needing more advanced features you can upgrade the plugin to utilize its visualization pipeline architecture. The software comes with a variety of interactive tutorials to give you modeling tips as well.
File Format: Wavefront OBJ, GTS and a raw format are fully supported, other ones are optional and depend on PLIB installation. Experimental plugins include OpenFX, OFF, RIB and X formats.
LeoCAD is a solid CAD software program strictly for LEGO modeling and design. Due to this limitation you may not want to use this for every project. The program's interface is fairly easy to use and features over 6000 different pieces making it fast to create your 3D models.
File Format: .ldr, .dat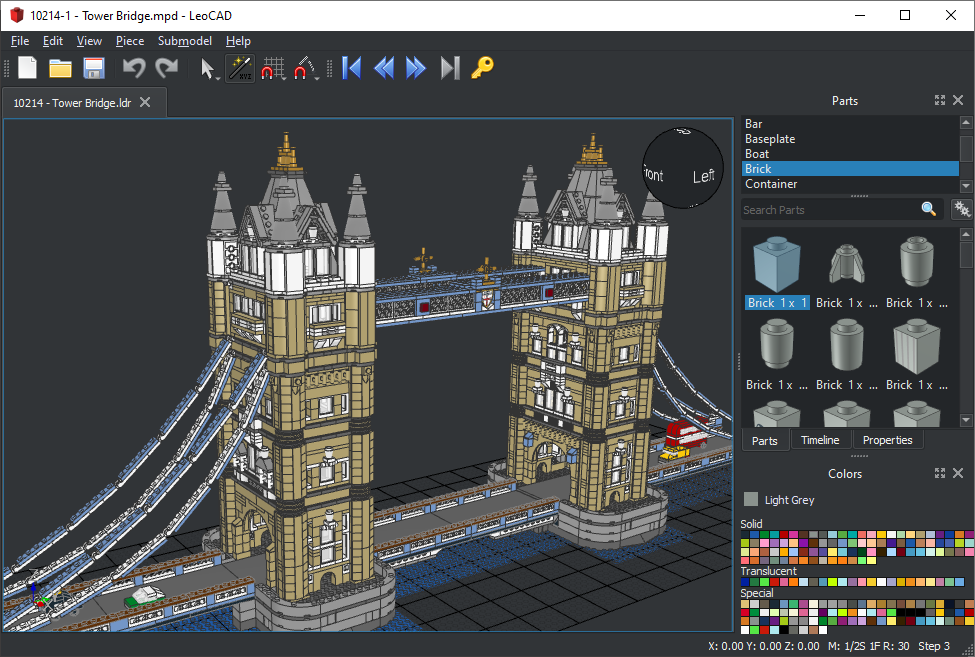 Great for product engineers and designers who work mostly on a tablet, this software is a great solution for use with the iPad Pro. Sharpr3D was the first working 3D CAD program that worked on the iPad Pro for experts and professionals. Having said this, it is still rather easy to learn, but still powerful enough to allow engineers the freedom to draw shapes and transform them with their tablet, Apple Pencil within the app.
Key Features:
Easily draw shapes and transform them; then in a matter of seconds use freeform surfacing, sketch on faces, and chamfer edges
Software and app designed specifcally for iPad Pro
Sketch just like you would on paper but get 3D results instantly
Compatible with popular CAD software including: SOLIDWORKS, AutoCAD, Fusion360, Rhino3D, CATIA, and Inventor
Precise sketches and models perfectly measured in mm, cm, m, inches, and feet
Supports features and transformations like: union, loft, hollow, offset, revolve, section, subtract, sweep, and freeform
Cost: Free (Great for 3D printing)
Pro version: $8.25/month paid annually – Ideal for professional users
Morphi is a 3D design app for 3D printing, augmented reality, virtual reality, stop-motion animation, visualization, and more for creating inventions, prototypes, and products. Morphi gives product engineers and their teams the ability to create 3D models from anywhere using touch and 3D shapes, text, hand drawing, images, and streamlined 3D modeling tools.
Key Features:
Simple, powerful 3D design tool
Use touch to create 3D models from anywhere, any time using a mobile device
Design both online and offline
Cost: Morphi for iPad: Free with in-app purchase options
Morphi for Mac: $9.99
Leopoly is a free online 3D surface design app that is very simple to use. It's very simple to use, and it's free. On the site you can customize objects using the available tools. Leopoly makes it straight-forward to include colors, shapes, letters to any of your 3D designs or models. Start your design from scratch or upload an existing file from a different software program. You have the option to export the file or 3D print directly on their 3D CAD platform.
File format: STL, OBJ
Browser-based (no download necessary)
Autodesk 123D Design is a simpler 3D CAD and 3D modeling software for hobbyists created by Autodesk. It is similar in scope to SketchUp and based on Autodesk's Inventor.
AD 123D Design is part of the free Autodesk 123D Apps group it has some power yet remains fairly easy to use for 3D creation and editing, working easily with most 3D printer models available today.
123D Design is a simple enough, intuitive graphical user interface with a viewable toolbox on the top and the view tools underneath. The design area of the app takes the rest of the space. Meshes are designed by placing primitive shapes in the design area. These shape's properties can be refined with an array of tools, including more advanced techniques like sweep and loft. As well as the more basic drawing and modeling capabilities, it also has assembly and constraint support and STL export. There is also a library of pre-made blocks and objects, which can be valuable timesavers.
The software can also be used like more traditional CAD software for a more technical 3D design approach. Also, you can import SVG files which makes it a very useful 3D modeling software tool with regards to creating mechanical parts from a drawing stored in SVG format.
This powerful tool is without a doubt one of the best 3D modeling software for beginners who want to get a solid foundation in the art.
UPDATE: In spring 2017, Autodesk discontinued the 123D software line of free 3D modeling and scanning tools.
Formats: 123x, step, STL, x3d, VRML
Cost: Free
OS: Windows, Mac and iOS
Creo Parametric 3D is a product engineering software tool that improves quality and product time-to-market because it allows designers to quickly construct virtual 3D product prototypes while automating the product development process.
Key Features:
Unique blend of parametric and direct modeling with product design apps that are interoperable
Freely create and interact with 3D CAD geometry to quickly see the results of your engineering decisions
Good for beginners and professionals alike
Cost: Free trial available; Contact for a quote
TurboCAD 2016 Deluxe is a complete, powerful 2D/3D CAD tool. The software features powerful drawing, modifying, dimensioning, and annotating. The materials, lighting, and photorealistic rendering are favorites of product engineers along with the software's ability to easily share their work with AutoCAD and SketchUP, as well as print in 3D.
Key Features:
Beginners can learn
2D drafting and 3D modeling in one easy tool
Customizable UI, time-saving wizards, XREF support, and more
Tools geared to mechanical engineers such as: 2D/3D Boolean operations, revolve, extrude, sweeps, and chain polyline
Better mirror copy tool for 3D objects
Slot tools, improved conceptual selector, new highlighting of 3D objects and parts of 3D objects, and much more
Cost: Electronic download $129.99
3D Slash is a simple, free 3D modeling software that allows the user to create models using a concept of building blocks similar to popularized game Minecraft.
Conventional parts of the program are not a part of the software, such as extrusion, revolution or sweeps, which might be sort of a surprise to 3D modeling professionals. Rather, modeling is focused on the cuboid, or a solid block that may be divided into smaller blocks of equal size. Using somewhat unfamilair tools to the modeling veteran such as the hammer, trowel, chisel, pulpwood, and drill; users create their 3D design working with the cuboid. For example, remove individual cubes with the hammer tool, and add cubes with the trowel.
3D Slash modeling software is also compatible with a wide range of online printing services and model repositories. Alternatively, export your 3D design to STL and print it on your 3D desktop printer.
If you are a beginner and think you may end up becoming a profssional designer; then you will probably be better off going with a tool like TinkerCAD or 123D Design so that you can get acclimated to the fundamentals.
Format: 3dslash, obj, STL
Cost: Free, Premium functionality from 24€/year
OS: Windows, Mac, Linux, Raspberry Pi or Browser
While not known as a 3d modeling software program, the famous well-known graphics editor has had some 3D features for quite some time. 3D printing is only supported as of version 14.1. Some downsides include the lack of any substantial modeling capabilities. Even with a lack of 3D model focus Photoshop CC does provide some support for 3D printing. It can generate support structures and scale the mesh to fit the selected printer. Also of value are the mesh repair tools that will help generate a watertight STL file.
Photoshop is connected to various online marketplaces and printing services. It might not be the best option, but if you already have this software and 3D files for printing then you will be able to print with this set up.
Format: 3ds, dae, kmz, obj, STL, u3d
Cost: 142 €/year
OS: Windows and Mac
The concept of sculpting within 3D modeling software is an interesting new approach to classic 3D modeling. There are some similar software programs on the market, but they are fairly difficult to learn which we will cover later in this review. In the comfort of your browser you can get a sense of the sculpting workflow with some basic tools.
Different from other sculpting tools you don't jump right in trying to create a high-definition mesh right away, but rather build up levels as you go. In practice, you will either start out with a primitive that you mold into your 3D design from scratch or load a template (a generic human body, etc.) from 3D modeling software as a basis. The groundwork is always to define the silhouette (arms, heads, limbs) in very broad brushes. From there you can switch to smaller brushes and sculpt large details, pronounced muscles, fingers and the like. Only then you can add intricate details like wrinkles or scars using finer brushes.
The number and complexity of the available objects are limited being that this is a free tool. If you are just curious about 3D sculpting; then this is the best tool to start. If you Having said that, try Sculptris if you want to step it up, or ZBrush or Mudbox.
Format: obj, ply, sql, STL
Cost: Free
OS: Browser
If you are just starting out; then TinkerCAD provides a very nice intuitive approach to common tools and concepts in 3D modeling software programs. Being browser-based it makes it very easy to access and get started right away.
In the application, it is easy to create a wide range of basic shapes. You can then stack the blocks one by one until you get the shape, and adjust freely to create an object. It works by placing blocks one by one until it shapes the part of the objects then adjust the design freely and the last is to combine the set of shape to create an object you want. With the CSG feature you can get a model up and running in minutes.
Key Features:
3D design and modeling tool for beginners and experts alike
Part of the 123D family of free apps
3D print with only a click
Format: 123dx, 3ds, c4d, mb, obj, svg, stl
Cost: Free
OS: Web Application
Name
Level
OS
Availability
Formats
123D Design
Beginner
Windows, Mac and iOS
Free

123x, step, stl, x3d, vrml

3D Slash
Beginner
Windows, Mac, Linux, Raspberry Pi or Browser
Free
3dslash, obj, stl
3D-Coat
Commercial software
3ds Max
Professional
Windows

stl, 3ds, ai, abc, ase, asm, catproduct, catpart, dem, dwg, dxf, dwf, flt, iges, ipt, jt, nx, obj, prj, prt, rvt, sat, skp, sldprt, sldasm, stp, vrml, w3d xml

3DVIA Shape
Commercial software
AC3D
Commercial software
Anim8or
Freeware
Animation:Master
Commercial software
ArchiCAD
Commercial software
AutoCAD
Professional
Windows and Mac
dwg, dxf, pdf
Autodesk 123D
Freeware
Autodesk 3ds Max
Commercial software
Autodesk Inventor
Commercial software
Autodesk Maya
Commercial software
Autodesk Mudbox
Commercial software
Autodesk Revit
Commercial software
Autodesk Softimage
Commercial software
AutoQ3D
Commercial software
AutoQ3D Community
Blender
Professional
Windows, Mac and Linux
Free

3ds, dae, fbx, dxf, obj, x, lwo, svg, ply, stl, vrml, vrml97, x3d

BricsCAD
Commercial software
BRL-CAD
Bryce
Commercial software
Carrara
Commercial software
CATIA
Industrial
Windows

3dxml, catpart, igs, pdf, stp, stl, vrml

Cheetah3D
Commercial software
Cinema 4D
Commercial software
CityEngine
Commercial software
Clara.io
Intermediate
Browser
Free, Premium features from $100/year

3dm, 3ds, cd, dae, dgn, dwg, emf, fbx, gf, gdf, gts, igs, kmz, lwo, rws, obj, off, ply, pm, sat, scn, skp, slc, sldprt, stp, stl, x3dv, xaml, vda, vrml, x_t, x, xgl, zpr

DAZ Studio
Freeware
DesignSpark Mechanical
Freemium
Electric Image Animation System
Commercial software
Exa Corporation
Commercial software
Flux
Freeware
Form-Z
Commercial software
fragMOTION
Commercial software
FreeCAD
Intermediate
Windows, Mac and Linux
Free

step, iges, obj, stl, dxf, svg, dae, ifc, off, nastran, Fcstd

Fusion
Industrial
Windows and Mac
$499.80 Educational licenses available

catpart, dwg, dxf, f3d, igs, obj, pdf, sat, sldprt, stp

Geomodeller3D
Commercial software
HDR Light Studio (lighting software)
Commercial software
Hexagon
Commercial software
Houdini
Commercial software
Inventor
Industrial
Windows and Mac
$2,060 year

3dm, igs, ipt, nx, obj, prt, rvt, sldprt, stl, stp, x_b, xgl

IRONCAD
Commercial software
K-3D
GNU GPL2
LightWave 3D
Trialware
MakeHuman
Intermediate
Windows, Mac, Linux
Free
Makers Empire 3D
Freemium
MASSIVE
Commercial software
Meshmixer
Intermediate
Windows, Mac and Linux
Free
Metasequoia
Commercial software
MikuMikuDance
Freeware
Milkshape 3D
Commercial software
Modo
Commercial software
Moi3D
Commercial software
Moment of Inspiration (MoI)
Intermediate
Windows and Mac
$266

3ds, 3dm, dxf, fbx, igs, lwo, obj, skp, stl, stp and sat

Mudbox
Professional
Windows and Mac
$85
fbx, mud, obj
Onshape
Professional
Windows, Mac, Linux, iOS, Android
$2,400

sat, step, igs, iges, sldprt, stl, 3dm, dae, dfx, dwg, dwt, pdf, x_t, x_b, xxm_txt, ssm_bin

Open CASCADE
GNU LGPL
OpenSCAD
Intermediate
Windows, Mac and Linux
Free
dxf, off, stl
Paint 3D in Windows 10
Pre-installed with Windows 10 Creators Update
Photoshop CC
Beginner
Windows and Mac
$142

3ds, dae, kmz, obj, psd, stl, u3d

Poser
Advanced
Windows, Mac
Standard $129.99, Pro $349.99
cr2, obj, pz2
Pro/ENGINEER
Commercial software
Quake Army Knife
GNU GPL
RaySupreme
Commercial software
Realsoft 3D
Commercial software
Remo 3D
Commercial software
RFEM
Commercial software
Rhino3D
Professional
Windows and Mac
495€ Educational, 1695€ Commercial

3dm, 3ds, cd, dae, dgn, dwg, emf, fbx, gf, gdf, gts, igs, kmz, lwo, rws, obj, off, ply, pm, sat, scn, skp, slc, sldprt, stp, stl, x3dv, xaml, vda, vrml, x_t, x, xgl, zpr

Rhinoceros 3D
Commercial software
ROBLOX Studio
Freeware
SculptGL
Beginner
Browser
Free
obj, ply, sgl, stl
Sculptris
Intermediate
Windows and Mac
Free
obj, goz
Seamless3d
MIT
Shade 3D
Commercial software
Silo
Commercial software
SketchUp
Intermediate
Windows and Mac
Free, 657€ Pro

dwg, dxf, 3ds, dae, dem, def, ifc, kmz, stl

Solid Edge
Commercial software
solidThinking
Commercial software
Solidworks
Industrial
Windows
9.950 €, Educational licenses available

3dxml, 3dm, 3ds, 3mf, amf, dwg, dxf, idf, ifc, obj, pdf, sldprt, stp, stl, vrml

SpaceClaim
Commercial software
Strata 3D
Commercial software
Sweet Home 3D
Freeware
Swift 3D
Commercial software
Tekla Structures
Commercial software
TinkerCAD
Beginner
Browser
Free

123dx, 3ds, c4d, mb, obj, svg, stl

TrueSpace
Freeware
Unigraphics
Commercial software
Vectorworks
Commercial software
Wings 3D
BSD
Wolfram Mathematica
Commercial software
ZBrush
Professional
Windows and Mac
400€ Educational License, 720€ Single User License

dxf, goz, ma, obj, stl, vrml, x3d

Zmodeler
Freeware
ZWCAD
Commercial software